The waves are rolling on the lake today as a second storm arrives.
Thanks for your continued interest in the ministry of Zephyr Point. Here are some recent highlights:
The response to our annual Autumn Banquet continues to grow. We are now at over $28,000 (our goal was $20,000)! We are so thankful for the generous participation by so many. If you'd like to see the five minute video about Day Camp that including many wonderful comments from campers, click here:
[button url="https://www.youtube.com/watch?v=CraJDJx7Cd0″]2016 Autumn Banquet Video[/button]
Keep praying for safety here, especially from fire. As you might be aware, there have been several wildfires in our area in the last 36 hours that were fanned by high winds, including the Emerald Fire, which was across the lake by Emerald Bay. Fortunately, there has been some wet weather that has helped slow them down. But, on the other hand, there have been homes that have been destroyed.
We are looking forward to our Fall Sprucing Up in the Pines work weekend next Saturday and Sunday. With 39 people in attendance, there are 8 projects we hope to make progress on including general clean-up, pine needle removal, flower garden planting, cabin deck work, Cabin 28 electrical and plumbing, Crawford Memorial Lookout staining, railings for Hubbard Lodge, and snow stakes for our roads. It looks like we'll have good weather next weekend.
Work on the Dobbins Hall fire sprinkler system began this week – check out the pictures below.
Our fall season continues to busy for which we are thankful. There are nine groups on the property today! It means that many more ministry opportunities. It does not begin to slow down until mid-November. Once the snow arrives, we are looking forward to hosting many groups that like to take advantage of the many winter recreation opportunities here in the Lake Tahoe basin. If you know of a group looking for a great place for a winter retreat, please feel free to mention Zephyr Point. We would be honored to provide them with Christ-honoring hospitality.
Thank you for praying for all who set foot on this property and for our entire staff creating space for them, while they are here, to hear God's voice and respond accordingly.
[ezcol_1half]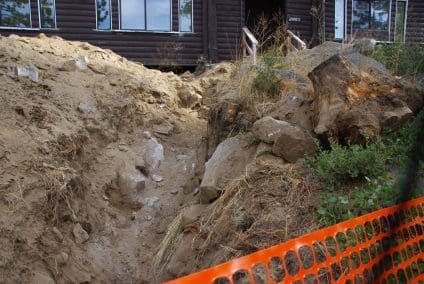 Trenching below Dobbins Hall.
[/ezcol_1half] [ezcol_1half_end]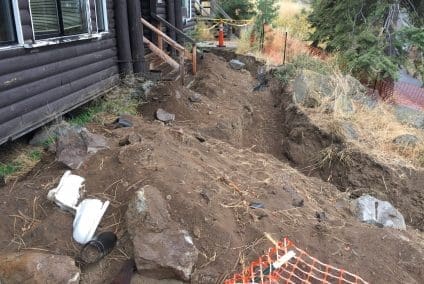 More trenching below Dobbins Hall. Check out the toilet in the lower left that was unearthed!
[/ezcol_1half_end]
2016 Zephyr Point Program Calendar
Sprucing Up in the Pines #2 – Oct 21-23
Prayer Summit – Nov 4-5
Winter Family Holiday – Dec 26-29
A serene and beautiful fall sunset earlier this week.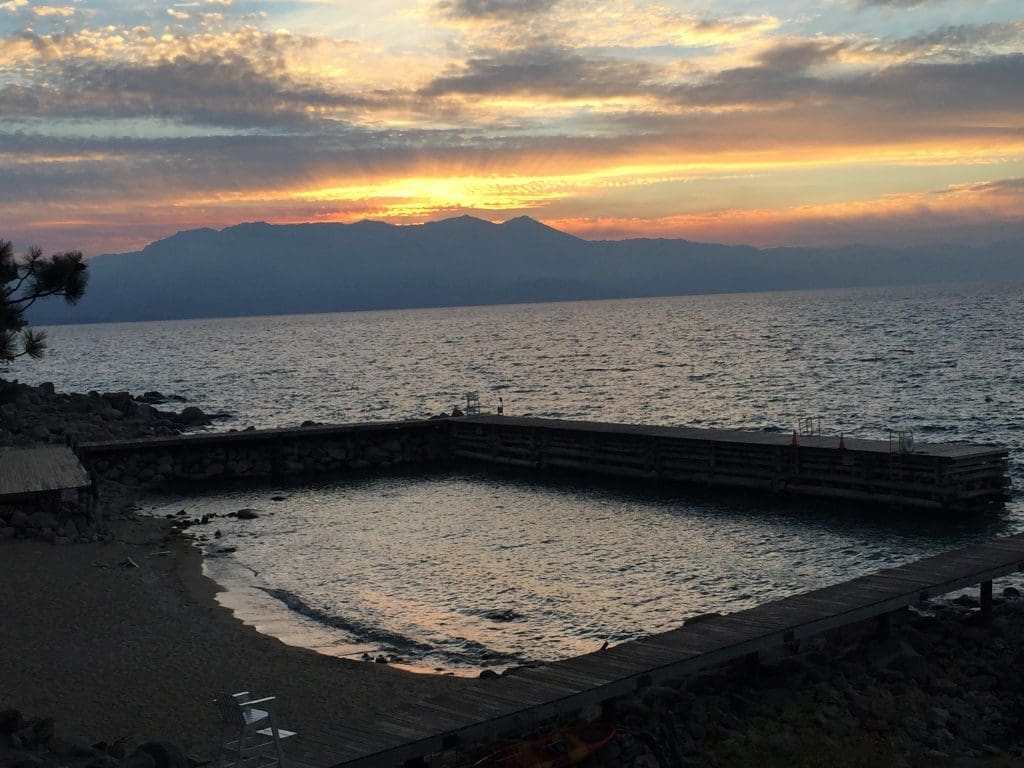 We hope you enjoyed this special edition of PointGuard.
If you've got a fun scenic shot taken here at Zephyr Point that you'd like us to consider for possible inclusion in a future edition of PointGuard, please send your digital picture to pointguard@zephyrpoint.org