January 27, 2017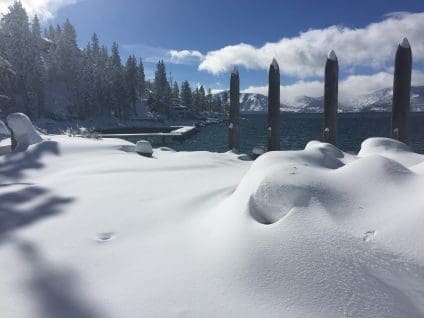 The storms finally cleared and left this beautiful view
from the Donaldson Amphitheatre on Monday.
It's been a crazy few weeks up here in Lake Tahoe. Across the lake, Squaw Valley announced the other day it is the biggest January on record at over 282 inches of snow! Getting around the lake along with coming up to Tahoe was a challenge for many. Admittedly, the fierce winter storms we have experienced in the last week resulted in several group and individual cancellations. Those that have come up have been loving it! We are very thankful for God's Hand being upon us during these heavy snows.
We'd appreciate your prayer support in the following ways:
Please continue to pray for safety for all of our campers and guests as they travel and spend time here at Zephyr Point. Snow is very inviting but the ice that accompanies it can very dangerous.
We are very grateful to be able to host 8 groups this weekend providing Christ-honoring hospitality.
In the midst of the various recent storms that we have experienced, our Zephry Point facilities overall have survived very well. Yes, we have had a few leaking roofs. Our maintenance and housekeeping team did an outstanding job of keeping roads and pathways (see the picture below) clear for our campers and guests.
Deep gratitude for the many that responded generously to our year end letter. That, coupled with a very strong year numerically and wise stewardship by our staff, has resulted in a positive year financially.
Please continue to pray for our staff as they continue to work with the Douglas County Building Department and the Tahoe Regional Planning Agency to finalize the plans for the interior renovation of Dobbins Hall (including bathrooms and a small kitchen). We know this will be a very welcome addition for all of our groups!
Praise that the Hubbard Lodge renovation was completed on January 13. The people that have used it so far are very pleased with the improvements. The first group to use it was one that has been coming for ten years. Not only were they pleased with the changes but God did some great things in their midst.
A big praise – our brand new website goes live this coming Monday afternoon. Be one of the very first to check it out. On Monday, the light blue button at the bottom will take you to it. 
pray for wisdom and discernment for our board of directors as they meet in Sacramento this coming Monday and Tuesday, January 30-31.
Believe it or not, summer is less than five months away. Registrations are already coming in for various summer programs. Look for more information soon regarding our brand new Family Camp, July 2-7.
Finally, please continue to pray that God will exceed all of our expectations in how He will work in people's lives this new year through this ministry. What a privilege and responsibility to be in this cathedral of the great outdoors.
We are very grateful for your care and concern for the ministry of Zephyr Point. Together, we can look forward to seeing what God will do through Zephyr Point as the name of Jesus Christ is proclaimed and magnified. We look forward to sharing what God has done "so that all people may know of your mighty acts and the glorious splendor of your kingdom." Psalm 145:12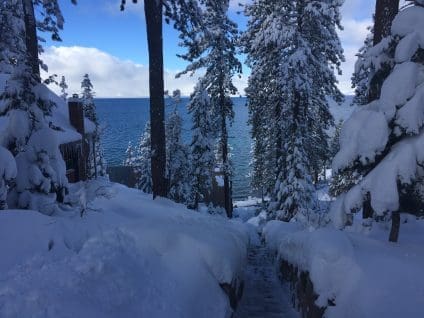 The north side of Robin's Flight on Monday afternoon just after having been shoveled . . . again!
Upcoming Programs at Zephyr Point in 2017
Lenten Prayer Retreat………………..……. April 7-9
Sprucing Up in the Pines 1 …………………..April 21-23
Preaching Pastors Retreat 1……………………….May 1-3
Artists Retreat 1 ………………………………………June 4-9
Camp Zephyr Day Camp……….. June 19-August 11
Zephyr Experience….……………..……..June 25-30
Family Camp…………………………………………. July 2-7
Jr. High Summer Basecamp ………………….July 9-14
Sr High Summer Basecamp .………..…….July 16-21
Art of Transitional Ministry……………………July 16-21
Handbell Program Conference………………..July 23-27
Sr. High Summer High Camp…………..…July 23-28
Summer Sing ………………………………………July 27-30
Jr. High Summer High Camp…….. July 30-August 3
Tuning @ Tahoe ………………………..July 30-August 4
Artists Retreat 2 ………………………………….August 6-11
ZP Men's Retreat ……………………….September 15-17
Artist Retreat 3 ……………………………September 24-29
Preaching Pastors Retreat 2 ………………….October 2-4
Ethnic Concerns Consultation………..….October 6-8
ZP Women's Retreat …………………………..October 6-8
Sprucing Up in the Pines 2 ………………October 20-22
ZP Prayer Summit…………………….November 3-4
ZP Winter Family Holiday……………….December 26-29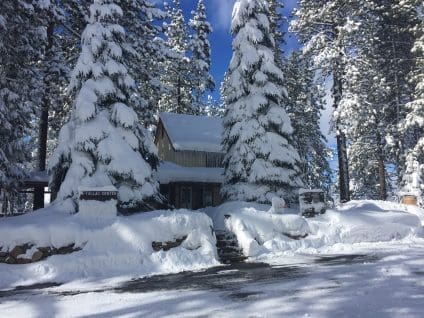 Welcome to Zephyr Point. Check out the icicles hanging
from the roof of the office in the center of the picture.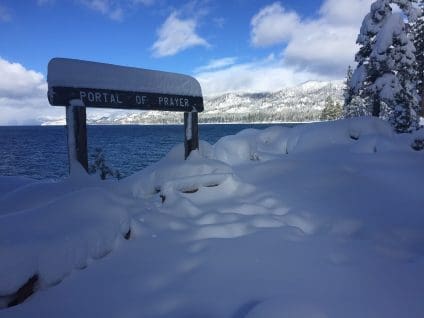 The Portal of Prayer beckons a response that proclaims the incredible creativity and majesty of God in the beautiful setting of Lake Tahoe.
The prophet Isaiah uses snow to illustrate a great truth about our Lord:
9 "As the heavens are higher than the earth, so are my ways higher than your ways and my thoughts than your thoughts. 10 As the rain and the snow come down from heaven, and do not return to it without watering the earth and making it bud and flourish, so that it yields seed for the sower and bread for the eater, 11 so is my word that goes out from my mouth: It will not return to me empty, but will accomplish what I desire and achieve the purpose for which I sent it. 12 You will go out in joy and be led forth in peace; the mountains and hills will burst into song before you, and all the trees of the field will clap their hands. 13 Instead of the thornbush will grow the juniper, and instead of briers the myrtle will grow. This will be for the Lord's renown, for an everlasting sign, that will endure forever."
Isaiah 55:9-13
We hope you enjoyed the first edition of PointGuard this new year.
If you've got a fun scenic shot taken here at Zephyr Point that you'd like us to consider for possible inclusion in a future edition of PointGuard, please send your digital picture to pointguard@zephyrpoint.org
Our mission:
Zephyr Point Presbyterian Conference Center exists to serve as an extension of the ministry of the church and to provide a place apart where God's Spirit may illuminate hearts and minds as they are exposed to the Gospel and the claims of Jesus Christ, and enable Christians to communicate and relate their faith to the world in which they live.