February 22, 2017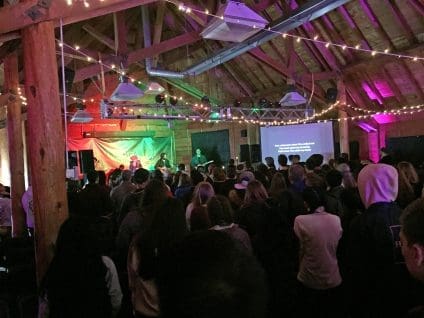 A high school winter camp in Dobbins Hall
over the Presidents' Day Weekend.
Despite the heavy winter rains and snow, campers and guests keep coming to Zephyr Point. Admittedly, it takes them longer to get here because of road/traffic issues but they are thrilled once they get here. One high school winter camp (pictured above) saw many students make commitments to deepen their walk with Christ. Their small group leaders are looking forward to following up with them as they return to their homes and schools.
We'd appreciate your prayer support in the following ways:
With the continuing snow and ice, please continue pray for safety for all of our campers and guests as they travel and spend time here at Zephyr Point. Snow is very inviting but the ice that accompanies it can very dangerous. On some occasions, travel up here to the lake has been very challenging.
We are very grateful to be able to host 5 groups this weekend providing Christ-honoring hospitality for a scrapbooking retreat, a men's retreat, an all church retreat, a family reunion, and a youth retreat.
This coming Monday to Thursday, we have the privilege of hosting over 150 Christian camp leaders from northern California and Nevada for a time of inspiration, encouragement and training. Please pray that when they leave on Thursday, they will be renewed in their relationship with Christ and affirmed in their service at their respective camps.
A huge praise for our maintenance and housekeeping staffs as they keep buildings and cabins warm, functioning, clean, and accessible during this inclement weather.
We are grateful for the all of moisture this winter replenishing the aquifer, the lakes and rivers. It has already created some repair challenges for us both immediate and getting ready for summer.
Thanks for your ongoing prayer support for the Dobbins Hall renovation plans as the dialogue progresses between our architect, engineer, Douglas County Building Department and the Tahoe Regional Planning Agency. 
Hubbard Lodge continues to get positive reviews about the many improvements that have been made in the last 6 months.  
We are thankful that our new website is up and running. We hope you have taken the opportunity to check it out (See the blue button below).
Praise for a great board meeting last month in Sacramento and the encouraging reports
 Registrations keep coming in for our various summer programs. We look forward to the many opportunities for ministry this summer with our cabin users, our groups who use our facilities and our programmed camps and retreats. 
Finally, please continue to pray for our staff as they diligently serve our campers and guests in the name of Christ. We are honored to have been invited to be a part of so many ministries that use Zephyr Point to help accomplish their mission and vision for their ministry.
Thank you for your interest in the year round ministry of ministry of Zephyr Point. Even though the lake is not as inviting as it is in the summer time, God is inviting people into a relationship with Him through Christ each and every day.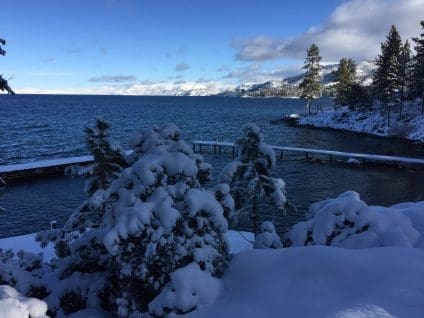 Our beautiful winter continues today after the last two days of snow!
Upcoming Programs at Zephyr Point in 2017
Lenten Prayer Retreat………………..……. April 7-9
Sprucing Up in the Pines 1 …………………..April 21-23
Preaching Pastors Retreat 1……………………….May 1-3
Artists Retreat 1 ………………………………………June 4-9
Camp Zephyr Day Camp……….. June 19-August 11
Zephyr Experience….……………..……..June 25-30
Family Camp…………………………………………. July 2-7
Jr. High Summer Basecamp ………………….July 9-14
Sr High Summer Basecamp .………..…….July 16-21
Art of Transitional Ministry……………………July 16-21
Handbell Program Conference………………..July 23-27
Sr. High Summer High Camp…………..…July 23-28
Summer Sing ………………………………………July 27-30
Jr. High Summer High Camp…….. July 30-August 3
Tuning @ Tahoe ………………………..July 30-August 4
Artists Retreat 2 ………………………………….August 6-11
ZP Men's Retreat ……………………….September 15-17
Artist Retreat 3 ……………………………September 24-29
Preaching Pastors Retreat 2 ………………….October 2-4
Ethnic Concerns Consultation………..….October 6-8
ZP Women's Retreat …………………………..October 6-8
Sprucing Up in the Pines 2 ………………October 20-22
ZP Prayer Summit…………………….November 3-4
ZP Winter Family Holiday……………….December 26-29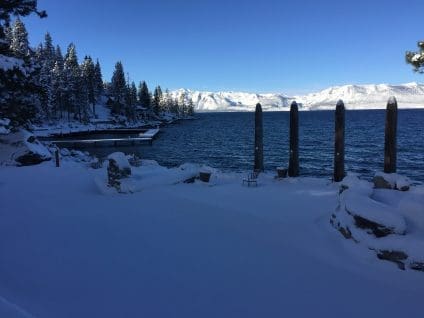 This morning's beautiful view towards Mt. Tallac from the Donaldson Amphitheatre. Check out the water level – the lake has gone up over 3.5 feet since October 1 (over 138 billion gallons)!
We hope you enjoyed this month's edition of PointGuard.
If you've got a fun scenic shot taken here at Zephyr Point that you'd like us to consider for possible inclusion in a future edition of PointGuard, please send your digital picture to pointguard@zephyrpoint.org
Our mission:
Zephyr Point Presbyterian Conference Center exists to serve as an extension of the ministry of the church and to provide a place apart where God's Spirit may illuminate hearts and minds as they are exposed to the Gospel and the claims of Jesus Christ, and enable Christians to communicate and relate their faith to the world in which they live.