March 18, 2017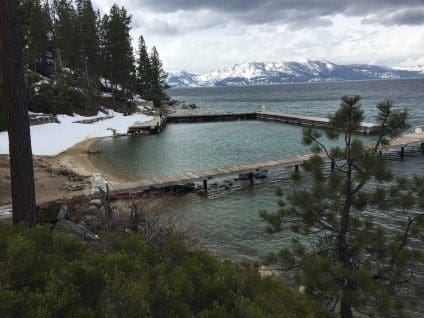 A blustery day at the waterfront today. Notice that the beach
is much smaller than last year!
The snow is melting, the lake level continues to rise, and people are coming every weekend to Zephyr Point and even some during the week. There are eight groups here this weekend and another seven on the property next weekend. Every weekend we hear from from campers and guests how the beauty and majesty of this place is so captivating. We continue to marvel at this sacred trust of these 24 acres we have been given to share with hundreds every month throughout the year.
As always, we appreciate your prayer support in the following ways:
Our summer CREW hiring is all done for 23 positions we have. Ten of them are filled by CREW from last summer. They will be coming from as far away as the east coast to literally just down the street from us. Please pray as this CREW begins to communicate with one another this spring as they prepare to meet hundreds of kids and youth who will be here this summer.
Praise for the rich time of encouragement, training, and fellowship for the over 160 Christian camp leaders from northern California and Nevada who were here earlier this month
A huge praise for the gift of 69 TempurSealy mattresses from the TempurSealy company that came last week. They have already been placed in Tahoe Center rooms and some of our cabins.
We continue to be grateful for the all of moisture this winter. It has created some repair and maintenance challenges that are being addressed before the summer begins.
Things are progressing regarding the Dobbins Hall renovation. We hope to have the sprinkler system installed this next month which will allow us to start the new ADA bathrooms as the schedule allows.
Cabin 28 (known for many years as the Linnview Cabin) is getting closer and closer to being ready as our new coffee shop this summer. Many details are in the process of being worked about from equipment to staffing.
Please pray for effectiveness for members of our Zephyr Point CREW who are out sharing about upcoming programs available (see list below) along with inviting people to sustain the ministry through their gifts of time, talent, and treasure.  
We continue to get good feedback about our new website. Please check it out if you have not done so already. We believe you'll be encouraged (See the blue button below).
We are thankful for the many registrations that keep coming in for cabin usage, groups who use our facilities and our programmed camps and retreats. 
Finally, please continue to pray for our staff as they engage with our campers and guests in the name of Christ. We continue to be humbled by the privilege of touching thousands of lives through out the year in this way.   
Thank you for your continued interest in the year round ministry of Zephyr Point. God is using this place in so many ways to encourage and refresh people's souls so they can more than survive what the world has for them but that they can thrive as followers of Jesus.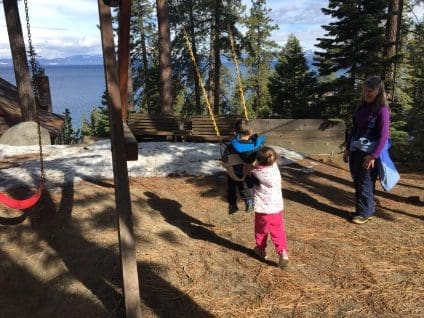 Today our swing set generated happy sounds of kids now that the snow is melting.
Upcoming Programs at Zephyr Point in 2017
Lenten Prayer Retreat………………..……. April 7-9
Sprucing Up in the Pines 1 …………………..April 21-23
Preaching Pastors Retreat 1……………………….May 1-3
Artists Retreat 1 ………………………………………June 4-9
Camp Zephyr Day Camp……….. June 19-August 11
Zephyr Experience….……………..……..June 25-30
Family Camp…………………………………………. July 2-7
Jr. High Summer Basecamp ………………….July 9-14
Sr High Summer Basecamp .………..…….July 16-21
Art of Transitional Ministry……………………July 16-21
Handbell Program Conference………………..July 23-27
Sr. High Summer High Camp…………..…July 23-28
Summer Sing ………………………………………July 27-30
Jr. High Summer High Camp…….. July 30-August 3
Tuning @ Tahoe ………………………..July 30-August 4
Artists Retreat 2 ………………………………….August 6-11
ZP Men's Retreat ……………………….September 15-17
Artist Retreat 3 ……………………………September 24-29
Preaching Pastors Retreat 2 ………………….October 2-4
Ethnic Concerns Consultation………..….October 6-8
ZP Women's Retreat …………………………..October 6-8
Sprucing Up in the Pines 2 ………………October 20-22
ZP Prayer Summit…………………….November 3-4
ZP Winter Family Holiday……………….December 26-29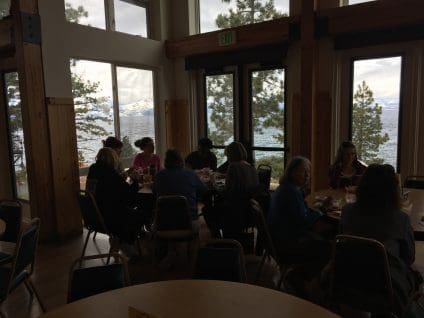 Guests from this weekend enjoying the fellowship in the Tallac Dining Room along with the view.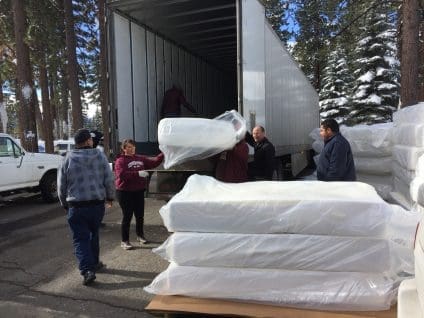 The weather cooperated last week as our staff unloaded the donation of 69 TempurSealy mattresses.
We hope you enjoyed this month's edition of PointGuard.
If you've got a fun scenic shot taken here at Zephyr Point that you'd like us to consider for possible inclusion in a future edition of PointGuard, please send your digital picture to pointguard@zephyrpoint.org
Our mission:
Zephyr Point Presbyterian Conference Center exists to serve as an extension of the ministry of the church and to provide a place apart where God's Spirit may illuminate hearts and minds as they are exposed to the Gospel and the claims of Jesus Christ, and enable Christians to communicate and relate their faith to the world in which they live.