April 22, 2017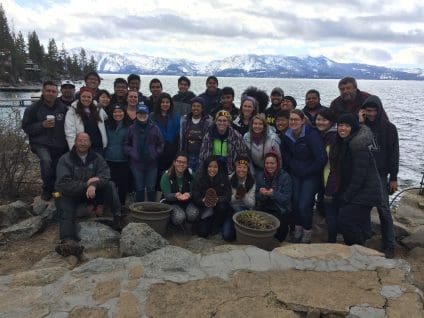 The UC San Diego Navigators group taking a break for a group picture at the Donaldson Amphitheatre
Late last month, for the first time, a group of 32 college students and their leaders from the Navigators ministry at UC San Diego spent 5 days here. Half the time was spent in Bible study and reflection while the other half was spent doing work projects here. Their 416 hours of donated labor prepared our Day Camp area, laid carpet squares, cleaned up the property, and removed/replaced a roof. This was just some of what they accomplished. Their attitudes reflected their love for Jesus as they joyfully served and engaged with our CREW. What a blessing they were to us.
Another work party, from Grace Presbyterian Church of Las Vegas, came two weeks ago. These 19 volunteers spent 456 hours accomplishing much: carpet laying and painting in Cabin 58, installation of safety measures in various buildings, pavers in front of Hubbard Lodge, pine needle raking, and snow shoveling! A huge thanks to both of these work parties! 
Your prayers for the following would be appreciated:
Our summer CREW of 24 students are really looking forward to all that the summer holds. We are so thankful for the energy and servants' hearts they will be bringing.
Our 2016 Annual Report has gone out in the mail. We are humbled to be able to share how God used this ministry last year to encourage and bless over 23,000 people through a Zephyr Point experience.
Praise for the 41 people who are here this weekend for Sprucing Up in the Pines completing a number of projects, especially clean-up after our intense winter.
Between now and mid-November is our very busy season. There are groups on the property almost every day for the next seven months! Please pray for receptive hearts along with physical and emotional safety for all of our campers and guests.
Moisture is still coming our way. Even though it is now spring, we are still getting both rain and snow. This can slow down our preparations for summer. 
Because of our busy schedule, we found a window of opportunity to install the fire sprinklers in Dobbins Hall. Please pray they can complete the job next month. We will begin building the new ADA bathrooms in the fall.
Praise for the improvements in Cabin 12, our pastor's cabin. Thanks to the generosity of the Huggett family, it is getting a completely renovated bathroom and a new bed. Next year it will get a new roof. We know many pastors will be blessed!
Please continue to give thanks for the many who help sustain this ministry through their gifts of time, talent, and treasure.  
We are very thankful for the many registrations of groups who use our facilities and our programmed camps and retreats. There will be many, many ministry opportunities this summer.
Finally, please keep praying for our staff as they serve our campers demonstrating a Caring, Respectful, Encouraging, and Welcoming (C.R.E.W.) attitude that reflects the love of Christ, especially as we enter this time of the year with the most ministry opportunities.
As we cherish this season of tremendous opportunities, we would covet your prayer support. As people of all ages leave here, we hope and pray they have grown more in love with Jesus.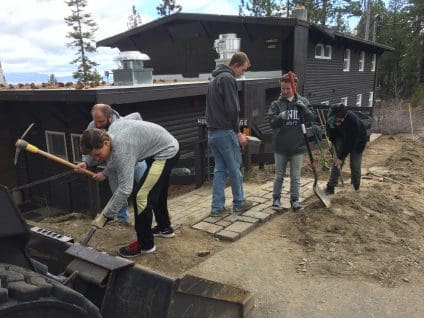 The students from Grace Presbyterian Church in Las Vegas are working hard putting in new pavers in front of the recently renovated Hubbard Lodge.
Upcoming Programs at Zephyr Point in 2017
Preaching Pastors Retreat 1……….May 1-3
Artists Retreat 1 ……………………….June 4-9
Camp Zephyr Day Camp…June 19-August 11
Zephyr Experience….…………..June 25-30
ZP Family Camp…………………………July 2-7
Jr. High Summer Basecamp ……..July 9-14
Sr High Summer Basecamp .……July 16-21
Art of Transitional Ministry………July 16-21
Handbell Program Conference….July 23-27
Sr. High Summer High Camp ……July 23-28
Summer Sing …………………………..July 27-30
Jr. High Summer High Camp …July 30-August 3
Tuning @ Tahoe ……………July 30-August 4
Artists Retreat 2 ……………………August 6-11
ZP Men's Retreat …………..September 15-17
Artist Retreat 3 ……………….September 24-29
Preaching Pastors Retreat 2 …..October 2-4
Ethnic Concerns Consultation…October 6-8
ZP Women's Retreat ……………….October 6-8
Sprucing Up in the Pines 2 …..October 20-22
ZP Celtic Prayer Retreat……….November 3-5
ZP Winter Family Camp…December 30-January 2, 2018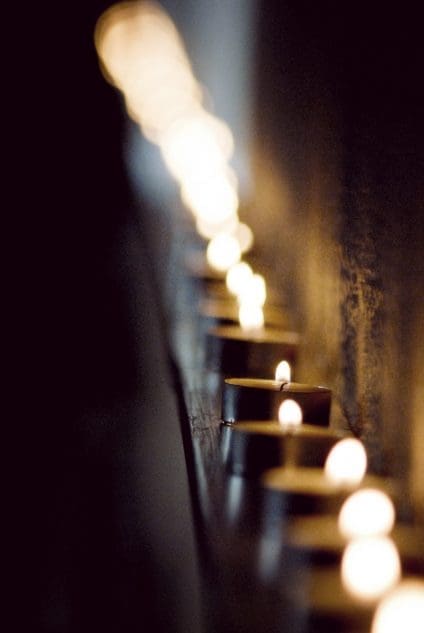 Another highlight this month was our Lenten Prayer Retreat, April 7-9. Here are comments from several of the participants:
"You truly helped me learn how to take a small breath and remember that God has everything in his hands and that it will all be okay."
"Ryan gave our group an experience of Jesus' last days that I will never forget."
"Fitting my day into prayer instead of fitting prayer into my day was new."
We look forward to this being a new annual tradition at Zephyr Point.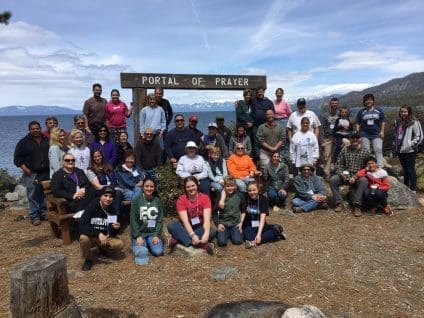 This weekend's Sprucing Up in the Pines participants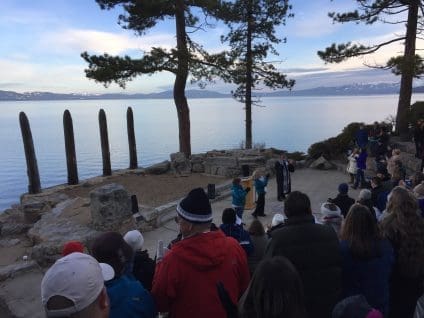 Last weekend's Easter Sunrise Service blessed 80 people
on a beautiful and brisk Sunday morning.
We hope you enjoyed this month's edition of PointGuard.
If you've got a fun scenic shot taken here at Zephyr Point that you'd like us to consider for possible inclusion in a future edition of PointGuard, please send your digital picture to pointguard@zephyrpoint.org
Our mission:
Zephyr Point Presbyterian Conference Center exists to serve as an extension of the ministry of the church and to provide a place apart where God's Spirit may illuminate hearts and minds as they are exposed to the Gospel and the claims of Jesus Christ, and enable Christians to communicate and relate their faith to the world in which they live.