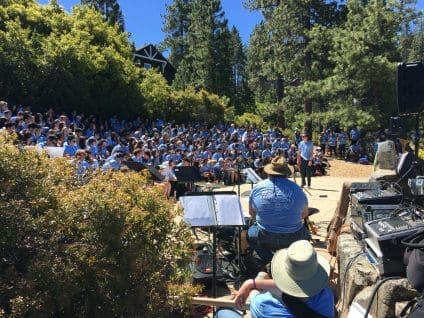 Last Friday morning, the Diocese of San Jose had their closing
gathering and challenge in the Donaldson Amphitheatre.
Summer has finally arrived here at Lake Tahoe. To kick off the summer, we welcomed 320 students for the Diocese of San Jose Youth Retreat last week, our biggest group of the year. Their theme, "The Call, here I am, send me," was one that challenged them to be on a mission to share their faith. 
They were one of the 40 groups who are holding retreats this month. In the midst of all of these groups, our first Day Camp started on Monday with 50 campers, many of them coming from Reno, one hour away!
Your prayers for the following would be appreciated:
We are very grateful for the spirit and attitude of our 24 summer CREW members. They have hit the ground running!
The strong response for our Day Camps continues. Junior High Base Camp is waiting list only and our Senior High Base Camp has some open spots. Also, our Family Camp during the July 4th week still has room to grow.
Please pray for our waterfront/lifeguard staff as they keep a close eye on the many people enjoying the cool and refreshing waters of Lake Tahoe.
The fire sprinkler installation at Dobbins Hall will start next week. Please pray there are no surprises, especially with an 80 year old building!
We continue to be grateful for the many who support Zephyr Point and for the many volunteers who helped us get ready for summer.
Praise for the countless ministry opportunities this summer as the beauty of this place draws people closer to the Lord.
We hope you can come up to experience Zephyr Point and Lake Tahoe in all its summer splendor.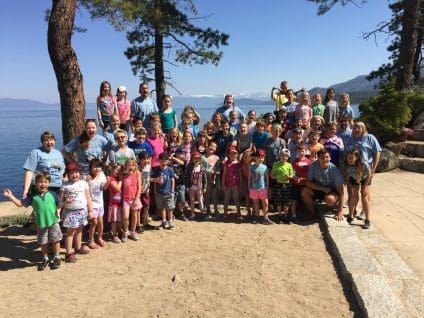 Day Camp started this week! All of these campers are having a great time!
Upcoming Programs at Zephyr Point in 2017
Camp Zephyr Day Camp…June 19-August 11
Zephyr Experience….…………..June 25-30
ZP Family Camp…………………………July 2-7
Jr. High Summer Basecamp ……..July 9-14
Sr High Summer Basecamp .……July 16-21
Art of Transitional Ministry………July 16-21
Handbell Program Conference….July 23-27
Sr. High Summer High Camp ……July 23-28
Summer Sing …………………………..July 27-30
Jr. High Summer High Camp …July 30-August 3
Tuning @ Tahoe ……………July 30-August 4
Artists Retreat 2 ……………………August 6-11
ZP Men's Retreat …………..September 15-17
Artist Retreat 3 ……………….September 24-29
Preaching Pastors Retreat 2 …..October 2-4
Ethnic Concerns Consultation…October 6-8
ZP Women's Retreat ……………….October 6-8
Sprucing Up in the Pines 2 …..October 20-22
ZP Celtic Prayer Retreat……….November 3-5
ZP Winter Family Camp…December 30-January 2, 2018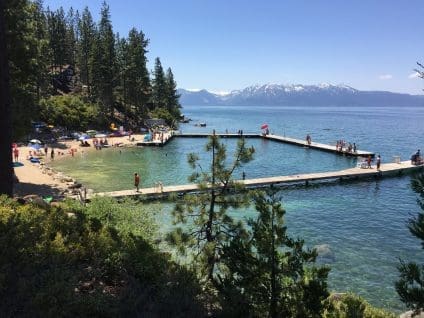 It is a gorgeous day today at the waterfront. Our smaller beach
is encouraging more fellowship and interaction!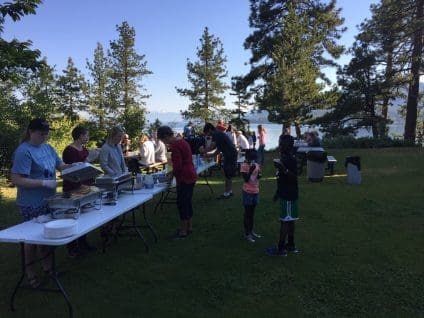 A new tradition – a pancake/bacon breakfast every Tuesday morning for the cabin users on the Tahoe Center north lawn. Yesterday was our first one.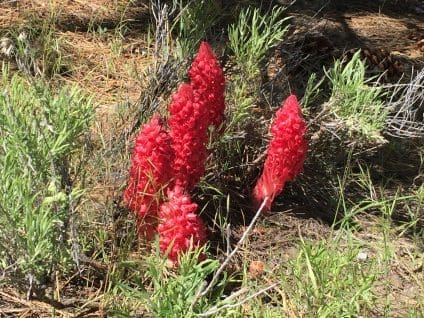 One of the many benefits of a late spring are the flowers that are now emerging, especially this unique Snow Plant found below the Tahoe Center.
We hope you enjoyed this month's edition of PointGuard.
If you've got a fun scenic shot taken here at Zephyr Point that you'd like us to consider for possible inclusion in a future edition of PointGuard, please send your digital picture to pointguard@zephyrpoint.org
Our mission:
Zephyr Point Presbyterian Conference Center exists to serve as an extension of the ministry of the church and to provide a place apart where God's Spirit may illuminate hearts and minds as they are exposed to the Gospel and the claims of Jesus Christ, and enable Christians to communicate and relate their faith to the world in which they live.