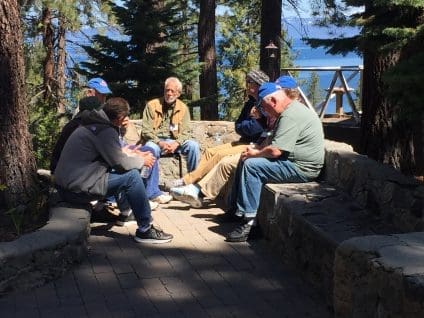 A small group discussion at the top of Robin's Flight
during a men's retreat last weekend.
Spring has arrived in full force here in Lake Tahoe. The lake is so full you can sit on our dock and touch the water with your toes!
We'd like to welcome the many new subscribers to PointGuard this month. We hope and pray you are still benefiting from your time here. Enjoy reading about the ministry and what's ahead here at Zephyr Point.
Just this month, there have been 36 groups here so far and cabin guests virtually every day. We hope they have savored the beauty of Lake Tahoe during their retreat, gathering, or getaway. Here's a sample of some of the comments we have received:
"Realizing the beauty of God and all that he has created has helped deepen my faith."
"I found God has been good with me and I just needed to open my eyes."
"God rooted the women of our church to Him and to each other."
"Really felt close to Him in the presence of His beauty!"
"The immense beauty brought peace to my soul to remind me of the peace God brings us all."
Your prayers for the following would be appreciated:
Our summer CREW of 24 students will arrive on June 9 with great excitement and anticipation for a great summer of ministry.
Praise for the strong response for our Day Camps, Junior High Base Camp and Senior High Base Camp. Registrations are coming in daily. Our Family Camp still has room to grow.
Please continue to pray for receptive hearts along with physical and emotional safety for all of our campers and guests. 
Financial support for the current Dobbins Hall renovation keeps coming in. Please continue to pray for a strong response for the renovation of this signature building on our property as we start the fire sprinkler installation next month.
We continue to give thanks for the many who help sustain this ministry through their gifts of time, talent, and treasure.  
Praise for the thousands who will set foot on this property and please pray that each of them would have a mountain top encounter with Jesus.
We can look forward with great anticipation to what God will do this summer.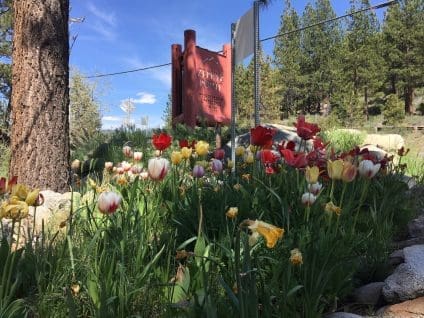 There is nothing quite like spring flowers.
Upcoming Programs at Zephyr Point in 2017
Artists Retreat 1 ……………………….June 4-9
Camp Zephyr Day Camp…June 19-August 11
Zephyr Experience….…………..June 25-30
ZP Family Camp…………………………July 2-7
Jr. High Summer Basecamp ……..July 9-14
Sr High Summer Basecamp .……July 16-21
Art of Transitional Ministry………July 16-21
Handbell Program Conference….July 23-27
Sr. High Summer High Camp ……July 23-28
Summer Sing …………………………..July 27-30
Jr. High Summer High Camp …July 30-August 3
Tuning @ Tahoe ……………July 30-August 4
Artists Retreat 2 ……………………August 6-11
ZP Men's Retreat …………..September 15-17
Artist Retreat 3 ……………….September 24-29
Preaching Pastors Retreat 2 …..October 2-4
Ethnic Concerns Consultation…October 6-8
ZP Women's Retreat ……………….October 6-8
Sprucing Up in the Pines 2 …..October 20-22
ZP Celtic Prayer Retreat……….November 3-5
ZP Winter Family Camp…December 30-January 2, 2018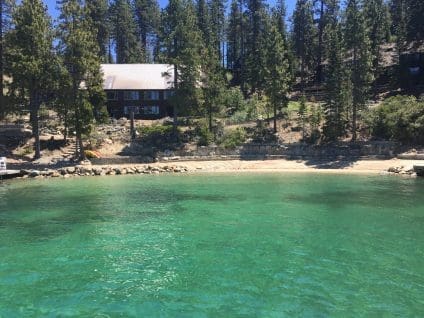 The cool waters of Lake Tahoe and our much smaller beach will be busy and crowded this weekend – the unofficial start of summer!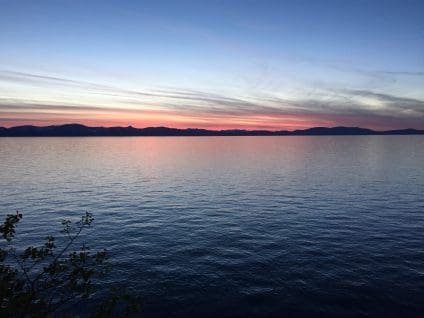 As we cherish this sunset from the deck of Cabin 12, we are
reminded of God's sovereign hand in all things. One
guest wrote of her experience here earlier this month:
"Realizing once again that God's sovereignty ordained
every hard thing for his glory."  
We hope you enjoyed this month's edition of PointGuard.
If you've got a fun scenic shot taken here at Zephyr Point that you'd like us to consider for possible inclusion in a future edition of PointGuard, please send your digital picture to pointguard@zephyrpoint.org
Our mission:
Zephyr Point Presbyterian Conference Center exists to serve as an extension of the ministry of the church and to provide a place apart where God's Spirit may illuminate hearts and minds as they are exposed to the Gospel and the claims of Jesus Christ, and enable Christians to communicate and relate their faith to the world in which they live.