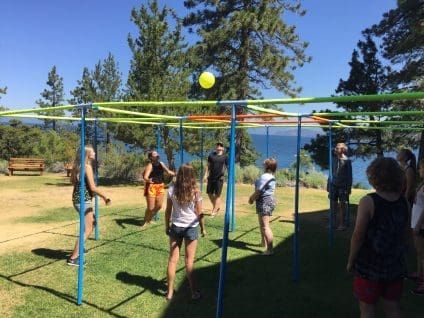 A game of nine square at High School BaseCamp.
As we move into the heart of summer, anticipation builds for people of all ages as they look forward to their time here at Zephyr Point. As you would guess, kids exemplify this the best! Just this past Sunday, one of our staff ran into a junior higher and high schooler that have been coming to Zephyr Point for six years. Even though each of them has been many times, they can hardly wait for camp to start. We love seeing eager and energetic campers coming knowing that God will meet them here in a special way.
Here are some comments about last week's Zephyr Point Family Camp:
"It was a vacation with a purpose."
"We loved how well taken care of we were."
"The teaching was inspiring and encouraging."
"Jer (the speaker) gave us direction on where we go with our faith in a broken world."
Thank you for praying for Zephyr Point. Here are some current items for your awareness:
Praise for how well Family Camp went last week.
Pray for the 29 high school students at our first High School Base Camp this week as they are challenged by God's Word in the midst of the fun and adventure of camp.
Pray for the 75 campers in this week's Day Camp that God will touch many of their hearts with the Good News of Jesus.
Safety is always first and foremost for all of our campers, guests, and staff. Keep praying for protection.
The fire sprinkler installation at Dobbins Hall is completed! We look forward to starting on the next phase this fall when we add ADA bathrooms, a small kitchen, and storage at the north end of the main room.
Praise for the positive comments and fun fellowship at our new Tuesday morning pancake and bacon breakfast for our cabin guests.
Please pray for the 10 groups coming in the next five days that people will be encouraged in their relationship with Jesus.
Registrations are already coming in for our annual Autumn Banquet, Sunday evening, September 24.
​We are very grateful for your interest and prayer support.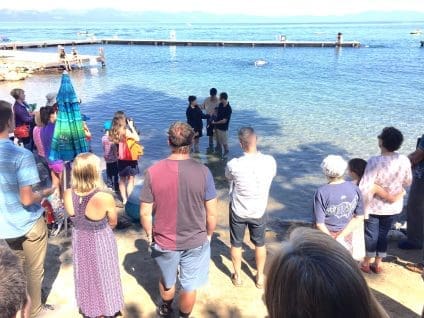 An infant baptism at the lake after this past Sunday's worship service. What a special milestone moment and memory for this family. 
Upcoming Programs at Zephyr Point in 2017
Camp Zephyr Day Camp…June 19-August 11
Sr. High Summer Basecamp ……..July 9-14
Jr. High Summer Basecamp .……July 16-21
Art of Transitional Ministry………July 16-21
Handbell Program Conference….July 23-27
Sr. High Summer High Camp ……July 23-28
Summer Sing …………………………..July 27-30
Jr. High Summer High Camp …July 30-August 3
Tuning @ Tahoe ……………July 30-August 4
Artists Retreat 2 ……………………August 6-11
ZP Men's Retreat …………..September 15-17
Artist Retreat 3 ……………….September 24-29
Preaching Pastors Retreat 2 …..October 2-4
Ethnic Concerns Consultation…October 6-8
ZP Women's Retreat ……………….October 6-8
Sprucing Up in the Pines 2 …..October 20-22
ZP Celtic Prayer Retreat……….November 3-5
ZP Winter Family Camp…December 30-January 2, 2018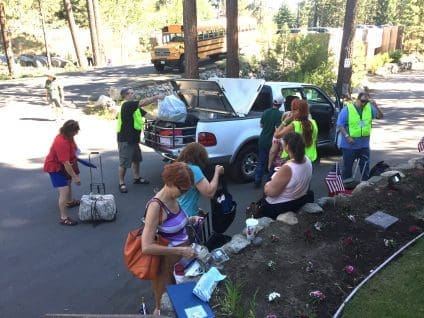 Some of the 177 singles from Bayside Church in Granite Bay
arriving for their weekend retreat last Friday.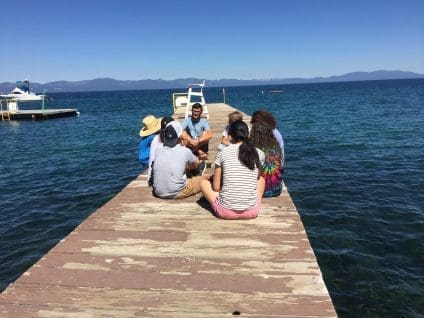 One of our Zephyr Point staff getting acquainted with his small group of high school students this past Monday morning at High School BaseCamp.
We hope you enjoyed this week's edition of PointGuard.
If you've got a fun scenic shot taken here at Zephyr Point that you'd like us to consider for possible inclusion in a future edition of PointGuard, please send your digital picture to pointguard@zephyrpoint.org
Our mission:
Zephyr Point Presbyterian Conference Center exists to serve as an extension of the ministry of the church and to provide a place apart where God's Spirit may illuminate hearts and minds as they are exposed to the Gospel and the claims of Jesus Christ, and enable Christians to communicate and relate their faith to the world in which they live.