A very popular activity at Day Camp – GaGa Ball.
The snow is rapidly disappearing on the surrounding mountains while we continue to enjoy all that the summer brings to Lake Tahoe. It was a busy and hectic day yesterday outside the "gates" of Zephyr Point. But, it was a relaxing and enjoyable 4th of July here culminating with the fireworks extravaganza over South Lake Tahoe being viewed by our guests from both the water's edge below Cabin 1, and the highest point on our property, the Leader Lookout, above Cabin 103 and Summit Lodge.
Every week we get comments on how God moves. Last week was no exception:
"It felt like it was easier to enter into God's presence, just because so many have been praying here!"
"Quality time with God and my relationship with Him (awesome)."
"Found a quiet place for prayer and devotion."
As you consider praying for Zephyr Point, here are some things you can keep in mind:
Praise for how God is working in lives daily.
Pray for the 29 high school students as they attend our first High School Base Camp next week along with the 75 campers who will max out our fourth Day Camp.
Please keep praying for safety for all of our campers, guests, and staff.
Praise that the fire sprinkler installation at Dobbins Hall will be completed this weekend!
Please pray for all the families and friends staying in our 43 cabins that there will be some rich and memorable times for each of them.
Please pray for the 8 groups coming in the next five days that people will be encouraged in their relationship with Jesus.
Preparations are under way for our annual Autumn Banquet, Sunday evening, September 24
​Thank you for your your interest and prayer support.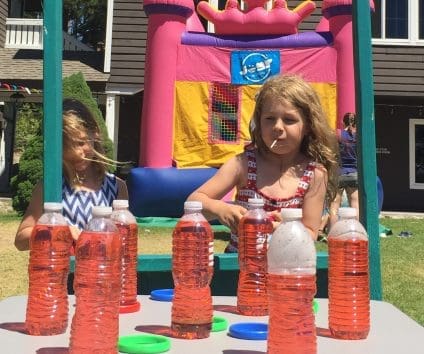 Ring toss fun at yesterday's ZP Family Camp Faire!
Upcoming Programs at Zephyr Point in 2017
Camp Zephyr Day Camp…June 19-August 11
Jr. High Summer Basecamp ……..July 9-14
Sr High Summer Basecamp .……July 16-21
Art of Transitional Ministry………July 16-21
Handbell Program Conference….July 23-27
Sr. High Summer High Camp ……July 23-28
Summer Sing …………………………..July 27-30
Jr. High Summer High Camp …July 30-August 3
Tuning @ Tahoe ……………July 30-August 4
Artists Retreat 2 ……………………August 6-11
ZP Men's Retreat …………..September 15-17
Artist Retreat 3 ……………….September 24-29
Preaching Pastors Retreat 2 …..October 2-4
Ethnic Concerns Consultation…October 6-8
ZP Women's Retreat ……………….October 6-8
Sprucing Up in the Pines 2 …..October 20-22
ZP Celtic Prayer Retreat……….November 3-5
ZP Winter Family Camp…December 30-January 2, 2018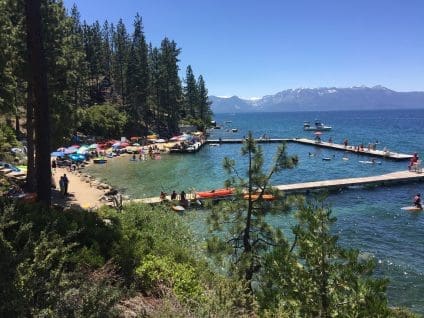 What a difference a year makes!
The waterfront yesterday, July 4 (above);
the waterfront on July 4 last year (below)!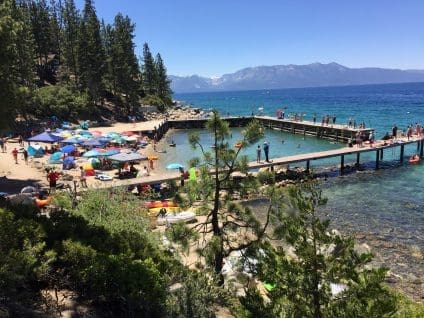 The lake level has reportedly gone up over 10 billion gallons
since this picture was taken last year at this time!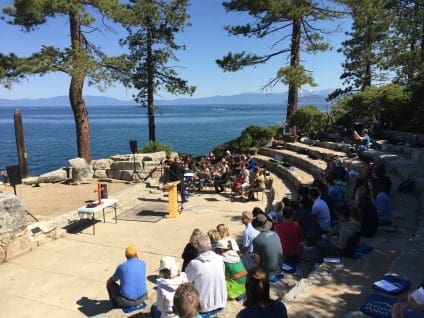 We were honored to be led in worship this past Sunday morning
by a string ensemble from Villa Sinfonia,
one of the groups on our property the last ten days.
We hope you enjoyed this week's edition of PointGuard.
If you've got a fun scenic shot taken here at Zephyr Point that you'd like us to consider for possible inclusion in a future edition of PointGuard, please send your digital picture to pointguard@zephyrpoint.org
Our mission:
Zephyr Point Presbyterian Conference Center exists to serve as an extension of the ministry of the church and to provide a place apart where God's Spirit may illuminate hearts and minds as they are exposed to the Gospel and the claims of Jesus Christ, and enable Christians to communicate and relate their faith to the world in which they live.