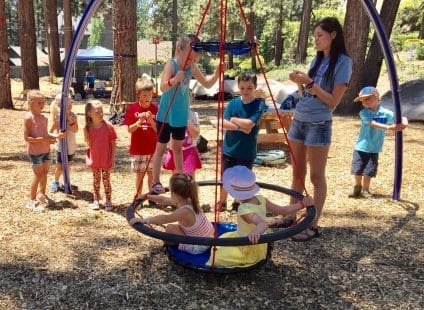 The brand new Vortex Swing – an instant hit with our Day Campers!
Summer is here at Lake Tahoe in a big way! That will become very obvious in the next few days as over 100,000 people arrive for the 4th of July weekend. On our 24 acre oasis, we will be somewhat oblivious to much of it as our campers and guests take full advantage of the serenity we offer here. Six groups will be arriving this weekend along with our Zephyr Point Family Camp. Also, all of our 43 cabins are being put to good use by many families that are arriving this Saturday.
Last week one of our groups was the Christian Businessmen's Committee family camp for northern California. Here are several things that were shared with the entire group the last morning they were here:
"Everyone made an impact on my life and I look forward to growing in Christ."
"I have been coming to Family Camp for 13 years and have been praying for a godly mate for my daughter. This year my son-in-law made a commitment to Christ."
"After I was baptized I felt reconnected with God again."
Your prayers for the following would be appreciated:
Praise for how God worked in the lives of those who were here last week. The comments above are just a small sample.
Many of our camps continue to get registrations every day. We are so thankful for increased ministry opportunities.
Please pray for safety for all of our campers, guests, and staff during this very busy weekend.
Praise that the fire sprinkler installation at Dobbins Hall is now underway! There has only been one surprise so far but they are still on schedule for completion next month.
Praise for the $50,000 gift from the Presbytery of Nevada received this past Sunday for the Dobbins Hall renovation.
Please pray that through the all the excitement and fun of this 4th of July weekend that every person here would still hear that still small voice of God speaking to them.
​
Please have a "safe and sane" 4th of July weekend.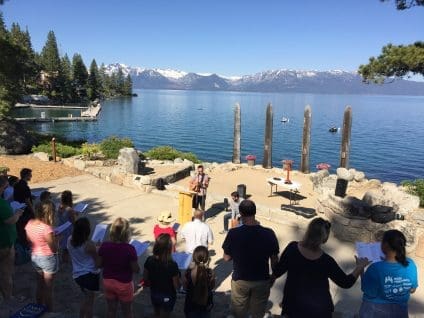 What a great way to start the week at last Sunday's morning
worship service in the Donaldson Amphitheatre. 
Upcoming Programs at Zephyr Point in 2017
Camp Zephyr Day Camp…June 19-August 11
ZP Family Camp…………………………July 2-7
Jr. High Summer Basecamp ……..July 9-14
Sr High Summer Basecamp .……July 16-21
Art of Transitional Ministry………July 16-21
Handbell Program Conference….July 23-27
Sr. High Summer High Camp ……July 23-28
Summer Sing …………………………..July 27-30
Jr. High Summer High Camp …July 30-August 3
Tuning @ Tahoe ……………July 30-August 4
Artists Retreat 2 ……………………August 6-11
ZP Men's Retreat …………..September 15-17
Artist Retreat 3 ……………….September 24-29
Preaching Pastors Retreat 2 …..October 2-4
Ethnic Concerns Consultation…October 6-8
ZP Women's Retreat ……………….October 6-8
Sprucing Up in the Pines 2 …..October 20-22
ZP Celtic Prayer Retreat……….November 3-5
ZP Winter Family Camp…December 30-January 2, 2018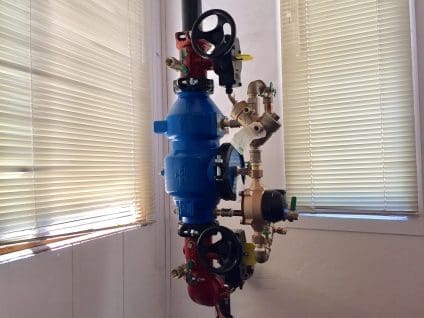 This might not appear to be very exciting but for Zephyr Point, this is the first part of the new fire sprinkler system for Dobbins Hall installed yesterday! What do you call this device? It is a double check detector assembly backflow. The renovation of Dobbins Hall is underway!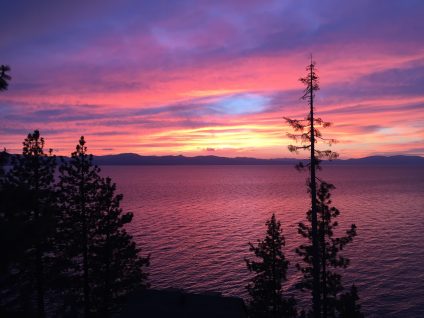 A beautiful sunset last weekend from the bridge on our Porcupine Trail.
We hope you enjoyed this week's edition of PointGuard.
If you've got a fun scenic shot taken here at Zephyr Point that you'd like us to consider for possible inclusion in a future edition of PointGuard, please send your digital picture to pointguard@zephyrpoint.org
Our mission:
Zephyr Point Presbyterian Conference Center exists to serve as an extension of the ministry of the church and to provide a place apart where God's Spirit may illuminate hearts and minds as they are exposed to the Gospel and the claims of Jesus Christ, and enable Christians to communicate and relate their faith to the world in which they live.