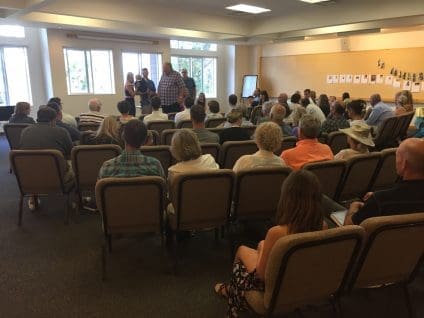 The baptism of a young child this past Sunday who is a descendant of John Harvey, one of the founders of Zephyr Point 92 years ago.
This past weekend over 65 people related to John Harvey, one of the founders of Zephyr Point, gathered here to celebrate the great legacy of Mr. Harvey and his daughter, Betty Blaikie (she attended the very first conference here in 1924). Both were very involved in the early years of establishing this ministry. Betty Blaikie's son, Doug (pictured above baptizing the baby) shared of the great legacy of the family and encouraged all the family members present to carry it forward. He also challenged them to support the "Betty Blaikie Young People's Scholarship Fund" so that one of the key founding desires for Zephyr Point was sharing Christ with students. That aspect of our ministry continues to grow. We are thankful for the encouragement of many who make it possible for those who cannot afford to attend camp to come to share in this wonderful experience. We are very thankful to the entire Harvery/Blaikie clan who were very generous in their support this past weekend. 
Thank you for your continuing prayer support for Zephyr Point. Here are some things on our hearts this week:
Praise for how well the Junior High School Basecamp with 43 students went last week.
We continue to look forward to many ministry opportunities almost every day from now until mid-November just when the snow could start arriving!
Pray for the 68 eager and energetic campers in this week's Day Camp that God will touch many of their hearts with the Good News of Jesus. It's hard to believe but there are only two more weeks of Day Camp after this week.
Pray for the 66 attending this week's Art of Transitional Ministry conference. It is designed for those who do interim pastoral work giving them a variety of tools and resources along with encouragement as they step into some challenging situations after a pastor leaves.
Pray for emotional and physical safety for all of our campers and guests. We deeply desire that this be a safe place for God to amazing work in the lives of kids and adults. 
We are thankful for the Betty Blaikie Young People's Scholarship Fund that provides financial assistance for those who otherwise could not attend camp.
Please pray for the 11 groups coming in the next five days that people will be encouraged in their walk with Jesus Christ.
Preparations for our annual Autumn Banquet, Sunday evening, September 24, are swinging into high gear.
​Thank you for your interest in the ministry of Zephyr Point.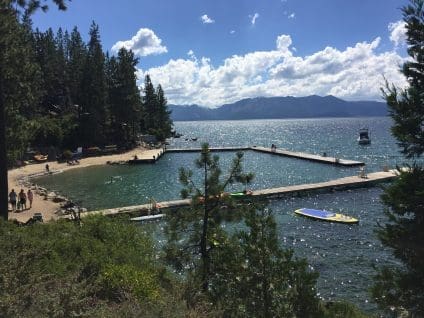 It's a slow and beautiful afternoon today at the waterfront after a very brief summer shower. It could be a gorgeous sunset tonight during our Wednesday night Vespers service in the Donaldson Amphitheatre.
Upcoming Programs at Zephyr Point in 2017
Camp Zephyr Day Camp…June 19-August 11
Handbell Program Conference….July 23-27
Summer Sing …………………………..July 27-30
Jr. High Summer High Camp …July 30-August 3
Tuning @ Tahoe ……………July 30-August 4
Artists Retreat 2 ……………………August 6-11
ZP Men's Retreat …………..September 15-17
Artist Retreat 3 ……………….September 24-29
Preaching Pastors Retreat 2 …..October 2-4
Ethnic Concerns Consultation…October 6-8
ZP Women's Retreat ……………….October 6-8
Sprucing Up in the Pines 2 …..October 20-22
ZP Celtic Prayer Retreat……….November 3-5
ZP Winter Family Camp…December 30-January 2, 2018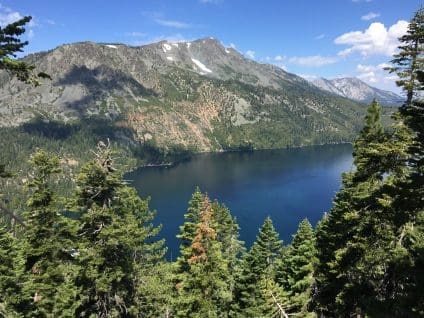 A different view of Mt. Tallac (the "cross" on the east facing slope is not visible from this view) with Fallen Leaf Lake in the foreground.
We hope you enjoyed this week's edition of PointGuard.
If you've got a fun scenic shot taken here at Zephyr Point that you'd like us to consider for possible inclusion in a future edition of PointGuard, please send your digital picture to pointguard@zephyrpoint.org
Our mission:
Zephyr Point Presbyterian Conference Center exists to serve as an extension of the ministry of the church and to provide a place apart where God's Spirit may illuminate hearts and minds as they are exposed to the Gospel and the claims of Jesus Christ, and enable Christians to communicate and relate their faith to the world in which they live.