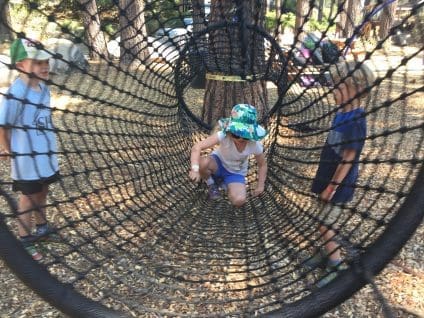 Some "tunnel" fun at Day Camp
It has been a privilege for us to have two youth camps back to back – High School last week and Junior High this week. Junior High camp has gone well this week for the 43 students in attendance. We are praying that we get a similar response like we did last week from the high schoolers:
 "The excursions were amazing this year! I was pretty nervous about rock climbing and river rafting, but the leaders were all so encouraging and took it all apart in ways that I knew I could accomplish step by step. I will always cherish what God taught me about life and about who he is through this experience!" – Freshman Girl
"I was really nervous because I didn't know anybody else when I got here, but my mom told me that I would make new friends. She was totally right! I feel like I have a whole new family that we formed here at Basecamp this week! I really appreciated all the leaders. They were really great and helped me to grow in my faith in Jesus. I can make a huge impact on this world by using the gifts and passions that God has given me, and I can't wait to get home and share that! – Sophomore Girl
"All of the activities this year were awesome! My favorite was going river rafting! I was pretty scared a couple of times, but the guides were great about helping us understand the way the river works and how we were going to be okay if we worked as a team! I feel like I understand my faith so much more now and learned about God not only through the lesson times, but also through the activities. I really liked going rock climbing too! – Freshman Boy
Thank you for praying for Zephyr Point. Here are some current items for your awareness:
Praise for how well High School Basecamp went last week.
Pray for the 43 junior high students this week as they are challenged by God's Word in the midst of the fun and adventure of camp.
Pray for the 65 campers in this week's Day Camp that God will touch many of their hearts with the Good News of Jesus.
Pray for the 66 attending this week's Art of Transitional Ministry conference. It is designed for those who do interim pastoral work giving them a variety of tools and resources along with encouragement as they step into some challenging situations after a pastor leaves.
Pray for protection for all of our guests and for the thousands of firefighters involved in the many fires around the western US.
We are thankful for the donations that keep coming in for the Dobbins Hall renovation.
Please pray for the 15 groups coming in the next five days that people will be encouraged in their relationship with Jesus.
We are looking forward to our annual Autumn Banquet, Sunday evening, September 24.
​Thank you for being a part of the Zephyr Point family.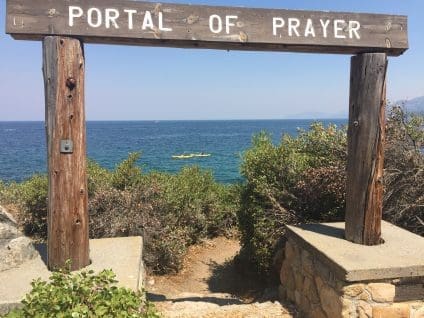 Smoke from the Detwiler Fire near Mariposa fills the Lake Tahoe Basin today. The visibility across the lake has been greatly reduced. 
Upcoming Programs at Zephyr Point in 2017
Camp Zephyr Day Camp…June 19-August 11
Jr. High Summer Basecamp .……July 16-21
Art of Transitional Ministry………July 16-21
Handbell Program Conference….July 23-27
Sr. High Summer High Camp ……July 23-28
Summer Sing …………………………..July 27-30
Jr. High Summer High Camp …July 30-August 3
Tuning @ Tahoe ……………July 30-August 4
Artists Retreat 2 ……………………August 6-11
ZP Men's Retreat …………..September 15-17
Artist Retreat 3 ……………….September 24-29
Preaching Pastors Retreat 2 …..October 2-4
Ethnic Concerns Consultation…October 6-8
ZP Women's Retreat ……………….October 6-8
Sprucing Up in the Pines 2 …..October 20-22
ZP Celtic Prayer Retreat……….November 3-5
ZP Winter Family Camp…December 30-January 2, 2018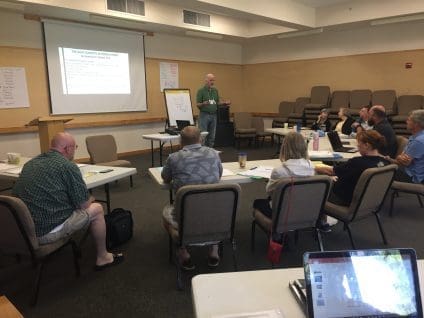 A session this morning at our Art of Transitional Ministry Conference.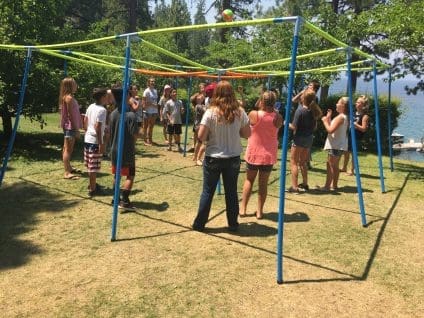 The junior highers eat lunch as fast as they can so they can continue
to play Nine Square at our Junior High BaseCamp.
We hope you enjoyed this week's edition of PointGuard.
If you've got a fun scenic shot taken here at Zephyr Point that you'd like us to consider for possible inclusion in a future edition of PointGuard, please send your digital picture to pointguard@zephyrpoint.org
Our mission:
Zephyr Point Presbyterian Conference Center exists to serve as an extension of the ministry of the church and to provide a place apart where God's Spirit may illuminate hearts and minds as they are exposed to the Gospel and the claims of Jesus Christ, and enable Christians to communicate and relate their faith to the world in which they live.