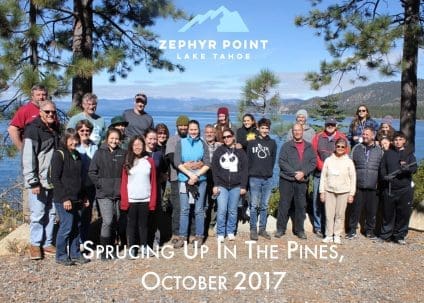 For five weekends last month, we had volunteer work parties come up to do a variety of tasks. During our own Sprucing Up in the Pines weekend, the following story came to our attention:
"The months leading up to last fall's Sprucing Up in the Pines were a very rough time for our family. Although we had participated as a family previously, my husband and I had become separated in July of that year and things were looking very bleak. The pain and hurt were overwhelming at times as the divide seemed to be steadily increasing between us, and there was seemingly no ray of hope from my perspective. I was crying out to God and praying for a miracle, but outwardly there seemed to be no change in our situation. Even in my own heart, I could feel how cold and bitter I was becoming because of my husband's choices.
It was about 3 months after the beginning of our separation that my kids and I decided to go ahead to Zephyr Point and serve as volunteers with a group of our friends at the conference center. One of the nights, there was a devotional from the book of Nehemiah that God used to stir my heart in a most powerful way. We were exhorted from the word to take a step of faith and move forward in an area that God was wanting to do a work in. To take a forward step of action to rebuild in an area that seemed hopeless and destitute, totally trusting God for the results and fruit that would come from our obedience. At that very instant, I KNEW that the Lord was speaking to me about my marriage. The way God used the devotional to breathe life and hope into my own heart was nothing short of a miracle, and I was determined to take the first step in reconciliation when I got home that weekend. I truly believe that it was that very message from God's word that was instrumental in saving my marriage by preparing my heart for what the Lord was calling me to do, Although I had come to the retreat center to be a blessing and to serve, I was ultimately the one who was beyond blessed and was served in such an unexpected way. Little did I know, God was also back home stirring my husband's heart during this same time and had given him the same desire and intention of reconciliation and rebuilding.
My family will forever be impacted by what the Lord did there and how he used that weekend of Sprucing Up in the Pines to do a supernatural work in my marriage. This year we got to come back and serve as a complete family, and it was a sweet and awesome time. Zephyr Point Conference Center and Sprucing Up in the Pines will forever be an Ebenezer to me of God's faithfulness and power. Thank you for the willing sacrifice you make in total faith that makes this kind of blessing possible. My family is grateful beyond words!"
Thank you for praying for milestone moments like this. We are humbled to be used by God in this way. Here are some other items you could pray for:
Praise for the many ministry opportunities we had this fall.
In the next nine days, five groups will be coming anticipating God to do some powerful things in the lives of the men, couples, pastors, families, and young adults who will be on the property.
Praise that gifts keep coming in for our Dobbins Hall Renovation. Between gifts already received and commitments made, we are well over the $700,000 mark on our way to our $1,000,000 goal.
Please pray that with #GivingTuesday, November 28, two weeks away, that Zephyr Point would be blessed by the generosity of many.
Praise that our new Operations Director, Doug Pearson, and his wife Jan, arrived yesterday. Please pray as they settle in and ramp up quickly to all that makes Zephyr Point what it is.
A hearty thanks to you for standing with this ministry.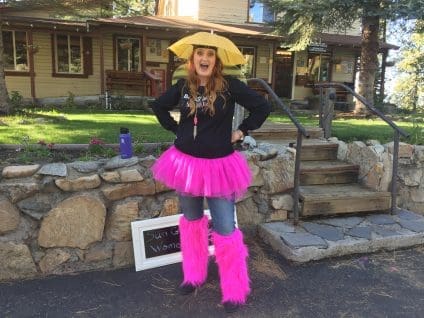 This is how one of the women's groups using Zephyr Point last month
welcomed their retreat guests – you could not miss her!
2018
ZEPHYR POINT PROGRAM CALENDAR
Jr High Winter Basecamp………… January 19-21
Sr. High Winter Basecamp ………. February 9-11
Lenten Prayer Retreat………..…… March 16-18
Spring Sprucing Up in the Pine………April 20-22
Spring Preaching Pastors Retreat..Apr 30-May 2
Artists Retreat 1 ……………………………… June 3-8
Camp Zephyr Day Camp……June 18-August 10
Zephyr Experience….………………..June 24-29
Family Camp………………………………….. .July 1-6
Sr. High Summer Basecamp ………….July 8-13
Jr High Summer Basecamp .…………July 15-20
Art of Transitional Ministry…………….July 15-20
Handbell Program Conference…………July 22-26
Sr. High Summer Basecamp ………..July 22-27
Summer Sing ………………………………..July 26-29
Jr. High Summer Basecamp .…July 29-August 3
Tuning @ Tahoe …………………July 29- August 3
Artist Retreat 2 …………………………..August 5-10
Sr. & Jr. High High-Camps………..August 5-10
ZP Men's Retreat……………..September 14-16
Artist Retreat 3 …………………….September 16-21
Fall Preaching Pastors Retreat……….October 1-3
Ethnic Concerns Consultation..…….October 5-7
ZP Women's Retreat ……………………October 5-7
Fall Sprucing Up in the Pines …….October 19-21
ZP Celtic Prayer Retreat …………November 2-4
PCCCA Annual Conference……November 8-16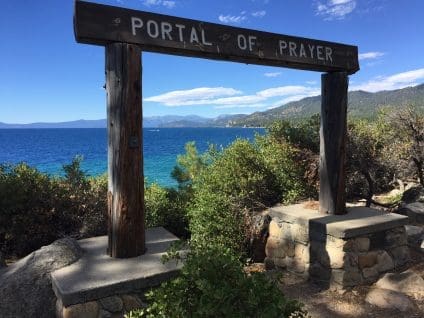 The Portal of Prayer has been a "holy" spot on these grounds for decades. Thousands have retreated to this small enclave right on the shore of Lake Tahoe to have some intimate moments with God. For some God has spoken loudly while for others it has been a gentle whisper. However it has taken place, people have left here renewed and refreshed in their walk with Jesus. As we approach the busyness of the Thanksgiving and Christmas season, we hope and pray you will have your own "Portal of Prayer" moments with our Almighty God celebrating all that has been done for us through His Son, Jesus Christ. What a privilege for us to come before our God in this way.
We hope you enjoyed this month's edition of PointGuard.
Our Christmas edition will be coming your way next month about this time.
If you've got a fun or scenic shot taken here at Zephyr Point that you'd like us to consider for possible inclusion in a future edition of PointGuard, please send your digital picture to pointguard@zephyrpoint.org
Our mission:
Zephyr Point Presbyterian Conference Center exists to serve as an extension of the ministry of the church and to provide a place apart where God's Spirit may illuminate hearts and minds as they are exposed to the Gospel and the claims of Jesus Christ, and enable Christians to communicate and relate their faith to the world in which they live.