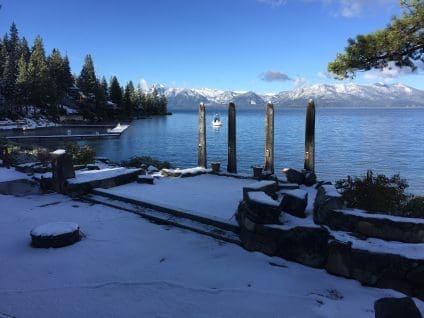 The last few hours of summer saw 3 inches of snow before it turned into fall reminding us that the winter is not too far off!
Our Annual Banquet is always a highlight each year. Ninety-three people gathered on Sunday, September 24, to hear how God has used this ministry and to look forward to the future.
It was a great evening of fun, celebration, and marveling at God's hand upon this ministry. The 21 silent auction packages, two weeklong stay raffle prizes, and great food created a festive atmosphere where we heard from Bedford Holmes, our director. He gave a ministry update that included the following quote from a girl who attended our new High School BaseCamp this summer:
"I was really nervous because I didn't know anybody else when I got here, but my mom told me that I would make new friends. She was totally right! I feel like I have a whole new family that we formed here at Basecamp this week! I really appreciated all the leaders. They were really great and helped me to grow in my faith in Jesus. I can make a huge impact on this world by using the gifts and passions that God has given me, and I can't wait to get home and share that!"
With our theme being "Overflowing with Hope," we were all encouraged knowing that she left here with great hope of an assured promise. We also saw of video about a woman and her family who escaped from Iraq to Syria as refugees in 2005. She came to Sacramento seven years ago to start anew where she connected with a church that came to Zephyr Point. She found great peace and encouragement in her relationship with God as a result of her times here. She commented that "Zephyr Point is like the open hands of God." It was a powerful story of God's working in a person's life through the ministry of Zephyr Point.
We were also encouraged and blessed by the generosity of God's people – over $32,000 has been raised so far. These many gifts are being used in three ways:
Our Annual Fund – this fund helps us with the many smaller projects that need to be done from building and cabin upgrades, furniture and bed replacement, vehicle servicing, program equipment; the list could go on and on but all are essential for us to most effectively serve the over 23,000 campers and guests each year.
Scholarship Fund – this means that more people will benefit from a Zephyr Point camp experience because many have helped remove the financial barrier that impacts many.
Dobbins Hall Renovation – thanks to the Lawrence and Moiso families, gifts for Dobbins Hall are being doubled up to $20,000. This added $25,425 to the over $400,000 that had been raised before that Sunday night. We are now able all the more to go forward with many improvements to our 80 year old signature building.
We are grateful and humbled by the care, love, and generosity of God's people.
We are also grateful for the opportunity to come before our God sharing things that are on our hearts here at Zephyr Point.
Please continue to pray for the hundreds who return home after a stay here at Zephyr Point. Our hope and desire is that they return to environments that stimulate their growth as a follower of Jesus.
In the next nine days, over 1000 people will set foot on the property. So many opportunities for God to work!
Praise that God has provided a new Business Director for us, Rose Fagerhaug. She was promoted from her Bookkeeper position here just the beginning of this week. We are currently considering applications for our Director of Operations' opening. 
Safety continues to be a top priority here with our hundreds of campers and guests. Thank you for keeping this as a daily matter of prayer. 
Our recent board meeting went well as we continue to look to the future with great hope and anticipation.
Winter preparations are already underway. There is much to do as we prepare for this winter. The big question around Lake Tahoe is will it be as big as last winter?
We continue to be grateful for the many people who support this ministry financially desiring that thousands have a Zephyr Point experience. This was especially evident at our Annual Banquet. Since the Annual Banquet, a couple came forward earlier this week pledging $100,000 for the Dobbins Hall renovation bringing our total of gifts and pledges to over $525,000!
Thank you for your interest in how God uses the ministry of Zephyr Point.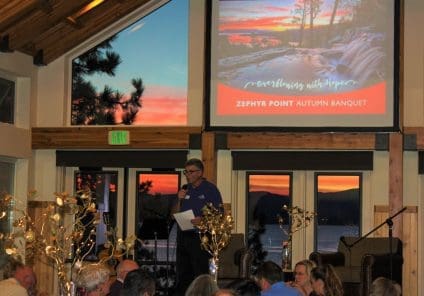 This vivid sunset during our Annual Banquet was a great reminder of God's continued creativity at Lake Tahoe and His provision for this ministry.
Upcoming Programs at Zephyr Point This Year
Ethnic Concerns Consultation……….Oct. 6-8
ZP Women's Retreat ……………………..Oct. 6-8
Sprucing Up in the Pines 2 …………Oct. 20-22
ZP Celtic Prayer Retreat……………….Nov. 3-5
Upcoming Programs at Zephyr Point in 2018
Jr. High Winter Basecamp…………Jan. 19-21
Sr. High Winter Basecamp ………….Feb. 9-11
Lenten Prayer Retreat………………..Apr. 6-8
Sprucing Up in the Pines 1 ………..Apr. 20-22
Preaching Pastors Retreat 1….Apr. 30-May 2
Artists Retreat 1 …………………………..June 3-8
Camp Zephyr Day Camp……June 19-Aug. 11
Zephyr Experience….………………June 24-29
Family Camp…………………………………..July 1-6
Jr. High Summer Basecamp ………..July 8-13
Sr. High Summer Basecamp .……..July 15-20
Art of Transitional Ministry…………..July 15-20
Handbell Program Conference……..July 22-26
Sr. High Summer High Camp………July 22-27
Summer Sing ……………………………..July 26-29
Jr. High Summer High Camp…July 29-Aug. 3
Tuning @ Tahoe ……………………July 29-Aug. 3
Artist Retreat 2 …………………………….Aug. 5-10
ZP Men's Retreat …………………………Sep.14-16
Artist Retreat 3 ………………………….. Sep. 16-21
Preaching Pastors Retreat 2 ……………Oct. 1-3
Ethnic Concerns Consultation…….….Oct. 5-7
ZP Women's Retreat ……………………….Oct. 5-7
Sprucing Up in the Pines 2 ………….Oct. 19-21
ZP Celtic Prayer Retreat………………..Nov. 2-4
ZP Winter Family Camp…Dec. 30-Jan. 2, 2019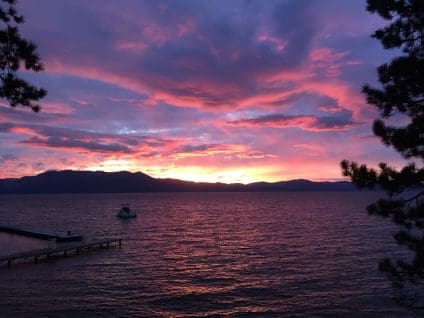 You can never tire of the sunsets here, especially this one from last week.
God never seems to run out of ideas on how to dazzle and amaze us!
We hope you enjoyed this month's edition of PointGuard.
Your next edition will be coming your way at the end of this month.
If you've got a fun or scenic shot (the picture of the bear came from one of our cabin guest last week) taken here at Zephyr Point that you'd like us to consider for possible inclusion in a future edition of PointGuard, please send your digital picture to pointguard@zephyrpoint.org
Our mission:
Zephyr Point Presbyterian Conference Center exists to serve as an extension of the ministry of the church and to provide a place apart where God's Spirit may illuminate hearts and minds as they are exposed to the Gospel and the claims of Jesus Christ, and enable Christians to communicate and relate their faith to the world in which they live.